Women Saved From Boko Haram Claim Soldiers Made Them Trade Sex For Food
Thousands of women and girls who believed they were being led to safety from Boko Haram by Nigerian security forces were instead systematically abused in exchange for food and assistance, an Amnesty International has revealed.
The shocking claims were made by more than 250 people interviewed over a two-year period. Some allege they were raped by members of the Nigerian military and Civilian Joint Task Force (Civilian JTF), while others say they were starved. The troops ordered civilians out of their villages and into satellite camps, where thousands of people, including children, have died of hunger, the report claims.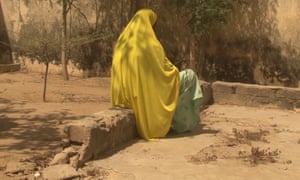 In the report titled "They betrayed us," it is alleged that five women said they were raped by soldiers in late 2015 and early 2016 in a displacement camp in Bama, Borno state.
Women interviewed by Amnesty said they were beaten and called "Boko Haram wives" by security officials whenever they complained about their treatment.
The report says that members of the Nigerian military and a local vigilante group Civilian Joint Task Force (Civilian JTF) "separated women from their husbands and confined them in remote 'satellite camps' where they were raped, sometimes in exchange for food."
Ten women in the Bama camp told Amnesty they were forced to date security officials to get food. One woman said a member of the JTF vigilante group raped her after he brought her food, telling her:
"I gave you these things, if you want them, we have to be husband and wife."
"Sex in these highly coercive circumstances is always rape, even when physical force is not used, and Nigerian soldiers and civilian JTF members have been getting away it," Osai Ojigho, Director of Amnesty International Nigeria said.
"They act like they don't risk sanction, but the perpetrators and their superiors who have allowed this to go unchallenged have committed crimes under international law and must be held to account."
Hundreds of women along with their children have been held in overcrowded centers in northern Nigeria since 2015.
Amnesty said it had collected evidence that thousands of people have starved to death in displacement camps since 2015.
In the report, the women alleged that 15 to 30 people died each day between 2015 and 2016 due to lack of food in these camps.
The human rights group said satellite images of an expanding graveyard in one of the camps during the time confirmed their testimonies.
In a 2016 report, another rights group, Human Rights Watch, said it had documented 43 cases of sexual violence against women by soldiers in displacement camps in northern Nigeria, forcing the Nigeria government to investigate.
Propaganda
Nigerian army spokesman John Agim denied the allegations in the Amnesty report, branding them "propaganda."
He said the army hasn't been deployed to displacement camps, which he said are run by the police, local vigilante groups and NGOs. "I wonder where Amnesty interviewed women who said they saw soldiers in these camps hoarding food and raping women?" Agim asked.
Agim accused the human rights group of republishing claims that had been investigated by the Nigerian government and had been found to be false.
Culled: Guardian/BBC